The Rise of E-Sports: Exploring the World of Competitive Gaming ===
Gone are the days when video games were a mere pastime for the average person. In recent years, we have witnessed the dramatic rise of e-sports, transforming the world of competitive gaming into a global phenomenon. This thrilling new industry has captivated the hearts of millions, attracting both players and spectators alike. Let's dive into the captivating world of e-sports and uncover what makes it so special.
Gaming Goes Pro: The Rise of E-Sports
What was once seen as a childhood hobby has now evolved into a professional industry. E-sports, short for electronic sports, has taken the world by storm, with tournaments taking place in packed stadiums and offering jaw-dropping prize pools. The rise of organized competitions and the emergence of dedicated e-sports teams has solidified gaming as a legitimate profession, paving the way for players to pursue their dreams on a competitive level.
Unleashing the Power of Virtual Battlefields
E-sports allows players to showcase their skills and strategic thinking on virtual battlefields. Games like League of Legends, Counter-Strike: Global Offensive, and Dota 2 have become the forefront of competitive gaming. These games offer intense and immersive experiences, where players must work together as a team to achieve victory. The level of coordination, precise execution, and split-second decision-making required is nothing short of extraordinary.
From Hobbyists to Celebrities: E-Sports Stars
Just like in traditional sports, e-sports has its own roster of superstars. These talented individuals have managed to rise above the competition, becoming icons in the gaming world. Their dedication, skill, and charismatic personalities have earned them a place in the hearts of fans worldwide. From Faker, the legendary League of Legends player, to s1mple, a master of Counter-Strike: Global Offensive, these e-sports stars have become household names, inspiring a new generation of aspiring gamers.
The Thrilling World of Spectator Gaming
It's not just the players who experience the thrill of e-sports; spectators play a significant role as well. E-sports events draw enormous crowds, both in-person and online, with millions of viewers tuning in to watch the action unfold. The electrifying atmosphere, fueled by the intense competition and the cheers of the crowd, adds an extra layer of excitement. The growth of streaming platforms like Twitch has further democratized e-sports, allowing anyone to watch their favorite players compete from the comfort of their homes.
Bridging the Gap: E-Sports and Traditional Sports
E-sports and traditional sports are no longer separate entities, but rather, they are converging in fascinating ways. Professional sports teams have recognized the potential of e-sports and have started investing in their own e-sports divisions. This cross-pollination has led to collaborations between players, sharing training techniques, and even joint sponsorships. The mutual respect between these two worlds has opened up new opportunities for athletes and gamers alike.
E-Sports: A Global Phenomenon
E-sports has transcended borders and language barriers, captivating audiences from all corners of the globe. Major e-sports tournaments like The International and the League of Legends World Championship attract participants from various countries, showcasing the diversity and passion within the e-sports community. As more and more players emerge from different countries, the competitive landscape becomes even more exciting, adding a unique cultural flavor to the games.
The Rise of E-Sports: Exploring the World of Competitive Gaming ===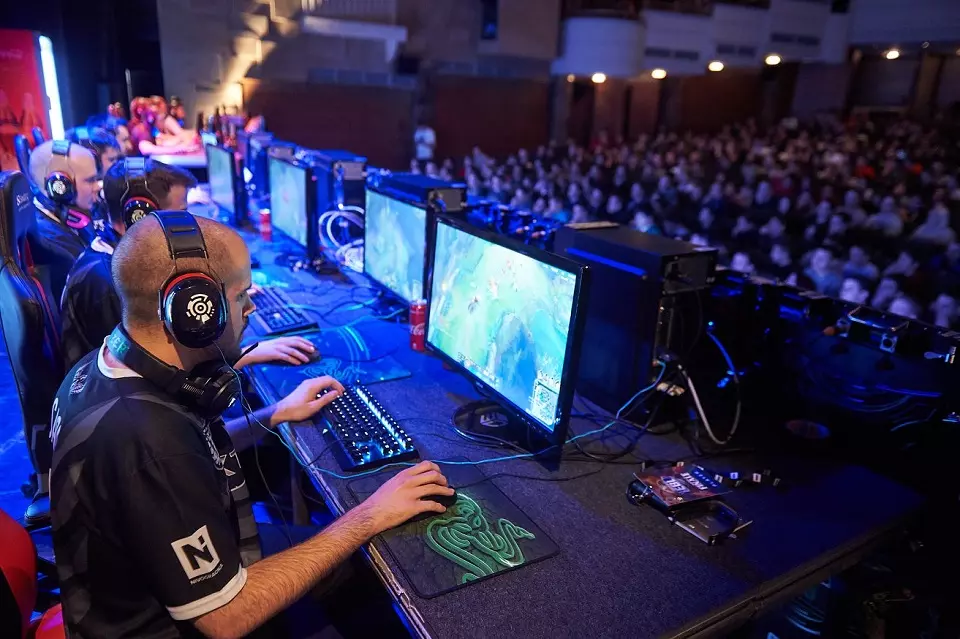 Professional competitive video Gaming is expected to reach 16 billion by 2024 through sponsorships media rights merchandise streaming and various other sources Around 495 million people all around the world watch matches and support their favorite eSports teamsEthan Mitchell Follow 2 min read May 16 In recent years the world of Gaming has experienced a seismic shift with the rise of eSports What was once considered a niche hobby has nowEsports or competitive Gaming has become a multibillion dollar industry worth 108 billion in 2020 and is expected to grow to 162 billion by 2024 HomeeSports or competitive video Gaming has grown rapidly into a global industry with a large fanbase professional teams players and The Rise of eSports Exploring the World of Competitive Video Gaming Game Info
HubJoin us as we delve into the remarkable rise of esports from its humble beginnings to global recognition Discover how streaming platforms major investmentExploring the World of Competitive Gaming The Rise of Esports Unveiled YouTube Policy amp Safety How YouTube works Test new features NFL Sunday Ticket 2023 Google LLCThe Rise of Esports Exploring the Exciting World of Competitive Gaming Valhallan Esports is rapidly gaining popularity among younger people and has become a viable career option for many Read on to learn what esports is and why it39s so valuable Arenas Find an Arena Esports Training Camps Birthdays amp Events Parent39s Night Out Open an Arena1 What is Esports 2 2 The Evolution of Competitive Gaming 3 3 The Most Popular Esports Games 4 4 The Business of Esports 5 The
Future of Esports 6 Conclusion 7 FAQs Esports is a form of competitive Gaming where players and teams compete against each other in video games
E-sports has truly revolutionized the gaming world. With its rise to prominence, gaming has become a legitimate profession, creating opportunities for players to showcase their skills and pursue their dreams. The thrilling competitions and the rise of e-sports stars have captivated millions of spectators, fostering a sense of community and excitement. As e-sports continues to bridge the gap with traditional sports and grow into a global phenomenon, the future looks bright for this exhilarating industry. So, whether you're a player or a fan, get ready to immerse yourself in the captivating world of e-sports. The battle has just begun, and it's time to join the game!